UV
A pictorial about THE Budapest tram
"UV": although some say that these two letters stand for "Uj Villamos" (hungarian for "new tram"), in fact it's just a model designation that turned into a kind of brand name. The UV class was designed in the mid-1950's by Ganz, one of the most important technical establishment of Hungary in the ninteenth and twentieth century. The earlier model "T" (3600-series, also known as the "Stuka", named after the german dive-bombers) was used as the basis for the development which was done jointly with the engineers of the Budapest tramway company FVV and the Ministry of Transportation. The first cars were ready by the beginning of 1956. The construction was very simple, lean and inexpensive: the control system was very much like the one used on the mid-entrance multiple units designed by Ganz in 1930-31, the body was very similar to the "Stukas". The first series hit the streets on 2nd of April, 1956 on route 2.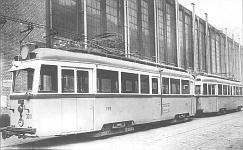 There were four production runs:
UV1, 1956-57 (3200-3249): the proto series

UV2, 1957-58 (3250-3349): the second series introduced modified electronics

UV3, 1959-61 (3350-3474): like UV2 but with slightly different interior design

UV5, 1962-65 (3800-3899): the last series, with driver's cabs only on one end and double-width center doors
Originally UV's of series 1, 2 and 3 had two driver's cabs, these were removed in the late 70's as the cars were mostly used in sets (multiple units), not as single cars. There was no UV4-series, but there was a modified, articulated UV built out of two normal cars (they were then separated again because the contruction proved to be unreliable). Also in the seventies the streetcars 3400-03 were rebuilt for training purposes into training vehicle 7660-63. By the early eighties UV's were standardized with just one driver's cab (seperated from the passenger cabin), and with eletrical equipment and other bits (new head light, motorized bell instead of the manual bell on front, rear-view mirror, etc) unified.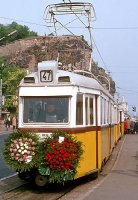 I came to know and to love the UV class in South- and Mid-Buda (Gellért tér, Bartók Béla út, Móricz Zsigmond körtér, Fehérvári út): they were fast and making a typical sound during acceleration and braking - because of this my parents called them "Stukas" although originally that was the nickname for the predecessor 3600-series. UV's were something special: they looked old, but they were comfy (at the time there were still many 2-axle trams with just bars instead of a door in Budapest) and the way they dashed on and with the sound they made, you had the feeling like it was racing among the rails with the speed of light :-) And you didn't had to climb up to the cabin like you had to on the 2-axles, or the much younger Ganz articulated and even on the Tatra T5C5 cars! It was interesting that the UV's in Buda were different to the ones in Pest: all 3800's (which had the wide middle door) were used in Pest, so I (an inhabitant of Buda) didn't had a chance to ride them until '81 when I stumbled upon one in Zugló on route 69...
Sadly the time of the UV is coming to its end: the first big bunch was scrapped between 1995 and 97, and in 2001-02 another group of these (still operable) motorcars got wasted. A few of these were either sold or donated for other usage (3871 as a buffet, 3262 and 3827 as an educational tool), and a few are reserved for the Museum of Transport and BKV's own museum (3200, 3257 and 3899), but in general I expect them to disappear in about five years. It would be nice to see them in tram museums around the world too!
The table below shows the current status of the UV rolling stock. Most of the photos there were taken by me, but some not: on our joint tramspotting walks, my very good friend Mr. Ákos Baracsy used to do the filming, as his camera was better than mine. There are also a few pictures taken by Mr. Mátyás Kónya. I started this collection in 1999, so I don't have pictures of the cars scrapped before that - those were taken by Heinz Heider, whom I would like to thank for providing me with all his wonderful photos!
But before I show you the table, here are some current events that had something to do with the UV:
Update, autumn 2001: The dischargement of UV cars has started on 4th of October. 3257 and 3899 were taken to storage for the museum and 3261 was donated to the School of Sigthless People (as a training tool for practing how to behave on public transport vehicles). All other "weed-outs" were scrapped during November.
Update, December 2002: Another 24 cars were deleted from stock. Also, on December 13. nine Ganz articulated sets on route 4 and 6 (Great Boulevard - the lines with the heaviest traffic) had technical problems, so 6 UV sets were directed there as emergency supplement. The old guys saved the day!
Update, February 2002: Number 3827 was transported to a traffic training park at Újpest. Around the same time some discarded UV's weren't scrapped but taken to the Angyalföld remise.
Update, March 2002: Another 24 cars were deleted from stock on the 11th. Also in this month a pair of Ganz articulated cars broke down on the Great Boulevard, their supplement was a UV set, the reserve train set for South Buda. This is interesting because the CSMG2's (this is the official designation of the Ganz articulated) on route 4 and 6 are normally supplemented with reserve CSMG2's, but not this time...
Update, April 2002: 3871 was taken to the Városliget (City park) where it'll be used as an ice cream bar.
Update, October 2002: Remise Zugló no longer operates UV's on its routes (3, 62, 69), so the cars until recently there will be either relocated to other depots or scrapped.
Update, March and May 2003: A bunch of UV's has been deleted from the current stock, including the whole MUV (modernised UV) series, and two training cars (7660 and 7661).
Update, May 2004: Ten motorcars and a trailer were deleted from stock.
Update, June 2005: Four motorcars and a trailer (5895) were deleted from stock.
Update, December 2005: 3871 (the one used in the City Park as a buffet) was sold and scrapped.
Update, January 2006: Three motorcars and the "driving school" 7663 were deleted from stock.
Update, April 2006: 50th anniversary of the UV!
Update, May 2006: 3201, a car withdrawn two years ago, and since then stored in the Zugló depot, was bought by the tramway enthusiast club MAVITE.
Update, July 2006: July 31 was the last day of UV operation on route 42 and 52, so this day was the last day of UVs in South-Pest.
Update, August 2006: Twenty UV motorcars were deleted from stock. These were used on the lines of remise Száva, which doesn't operate this type anymore. Also withdrawn was number 3200, the very first UV. Number 3201, bought by a tramway society in May, was on display at the Hungarian Railway History Park (Vasúttörténeti Park) for months.
Update, October 2006: 3200 was transported to the Urban Transit Museum in Szentendre, where it will be displayed as a static exhibit.
Update, November 2006: November 12 was the last day of the UVs on route 19. After that, 20 motorcars were deleted from stock.
Update, March 2007: March 30 was the last day of UV operation on route 49.
Update, April 2007: 35 motor- and 21 trailer cars were deleted from stock. They have become surplus because of the new Combinos arriving to the Grand Boulevard routes, replacing the Ganz articulted cars there, which in turn replaced UVs on route 49. 7 motorcars and 4 trailers have been put to storage in remise Budafok, until further decision.
Update, April 15, 2007: The Urban and Suburban Transit Association (VEKE) buys the UV double-set 3800+3809 from the BKV.
Update, July 2007: On the 22nd of July route 41 was operated with UVs for the last time. From the next morning Ganz articulated cars took over this classic service running between Batthyány tér and Kamaraerdő..
Update, August 2007: The last tram service still operated with the UVs, route 47 was suspended from August 21 due to the reconstruction of the Szabadság híd (Liberty Bridge). This also meant that all UVs were withdrawn from service, making August 20 - a National Holiday, the Day of St. Stephen - also the last day of regular UV operation. It seems an era of more than 51 years is over. A regular heritage service with UVs is planned, but its realisation is indeterminate.
Update, November 2007: The UVs and trailers withdrawn from revenue operation in August were deleted from stock on November 21. This doesn't yet mean that they are written off: they are now on offer to anybody who is willing to pay for them (which will mostly mean "scrap value"). The BKV already selected a few cars for its heritage fleet (3873, 3885, 3888, 3898 and trailers 5869 and 6010), just like a couple of transit associations and individuals.
Legend: "S" is for surplus, "MUV" for Modernised UV (these were 20 cars with new driver's cabs and different interior). Light grey background: preserved/still existing withdrawn car; yellow background: still in service; pink background: modification to training vehicle; light cyan background: modification to MUV.
The hyperlinks will take you to a thumbnail picture of the respective car. These thumbnails are grouped together on five pages which are quite big so it might take some time to load them all - please be patient! If you click on the thumbnails, you'll see a bigger image of the vehicle.
A few bonus pictures...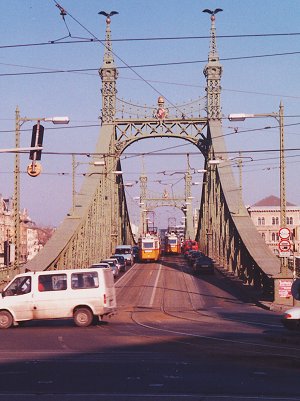 The most prominent place for UV's is the Small Boulevard (routes 47 and 49). On their way there (and back) they cross the Danube on the Szabadság híd (Liberty bridge, built 1893-96). That's a very nice place to photograph these old streetcars (although traffic sometimes hinders the composition:).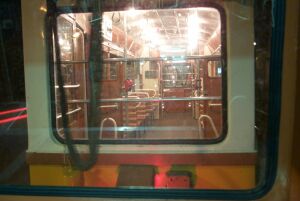 Another type that will vanish with the UV's: the 2-axle trailers. These were built before the UV was born (some of them was manufactured in 1939!), so they're really old, but I will miss them too - they may not be comfortable, but it's fun to ride them!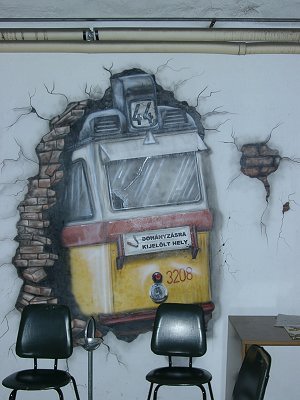 This graffity can be seen in remise Zugló, a classic place for UV's. The people there seem to love this tram! Too bad the depot now only operates TW6000 cars!
Bonus: The sound of the UV and the UV-trailer in .WAV!
---
Back to the top
Back to the main page