The BA123 enclosure
---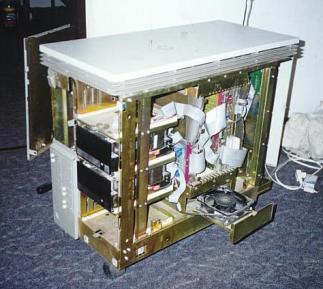 The BA123 was a "classic" enclosure for the high-end small systems (e.g. MicroPDP-11/83 and MicroVAx II, VAXstation II/GPX) in the mid-80's. The grey box on wheels is often called "space heater", "air conditioner" or "bar table" because of its look. Although the enclosure now seems a bit large for 0.9 VUPs (VAX Unit of Performance; the MicroVAX II is rated 0.9 measured with this unit), it's still a nice system box.
It has a 12 x quad slot 22-bit backplane, space for five storage devices, a power supply unit, and switches for the devices and power. The backplane is accessed from one side, after removing the side sheets. The power supply controls and the back cutout panel is on the back, you have to open a covering sheet. There's a big circuit breaker on the back which applies power to the PSU, but does not turn the system on (this can be done with the switch on the front).
The configuration is "mixed" Q22/CD-serpentine: the first four slots are Q22/CD, the other eight after that is serpentine. As the qbus boards sit vertically in the cardcage, the dual boards in the upper Q22 slot must have small supporting cards, when there's nothing in the slot below (or next, depends how you look at it), to keep them form falling down. Also: take care with the cables going to storage devices, or to the cutout panels on the back, they can pull out or bend the cards! On the other hand, unlike in the BA23, the cardcage is quite large, configuring modules is easier.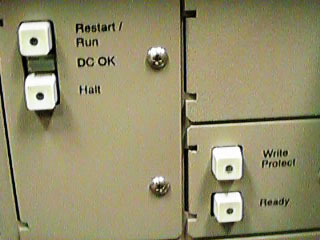 The system control panel is behind a door on the left of the front side. It has pushbuttons for Restart, Halt, HD Write protect, HD Ready (the number of them depends on how many drives are in the system), and LEDs for Run and DC OK.
About the removal of the side sheet: there's a small switch in the box, which controls the cooling fans, so if you open the enclosure, the fans start to spin heavier to provide normal air circulation. Don't leave the BA123 open, if you use it 7x24x365...
Dimensions: 33 cm x 62.2 cm x 69.9 cm
Weight: ~60 kg
Maximum power consuption: 690W
Acoustic emission (LPA): 46 dB
Operating temperature: 10-40 deg. Centigrate (Celsius); 50-104 Fahrenheit
Operating humidity: 20-80% (non-condensing)
Back to the top
Back to the qbus page
Back to the main page
---